Cured In Place Pipe Replacement
This European technology is not new really, but has recently become available for use locally, now accepted as the preferred method of sewer repair by municipalities who have miles of aging sewers. This method is saving millions of dollars to the local area governments by repairing aging sewer lines without tearing up roadways. This technique of Cured In Place Pipe (CIPP) is now available for residential repairs to renew old lateral sewer lines which connect buildings to the municipal sewers in the street. This system of repair is saving our commercial and residential clients Time, Energy and Money. It costs about ½ of what old fashion sewer repair methods, makes no mess and can be done in about a day.
Trenchless Pipe Replacement
Pipe Stent Non-Invasive Pipe Repair
How it works: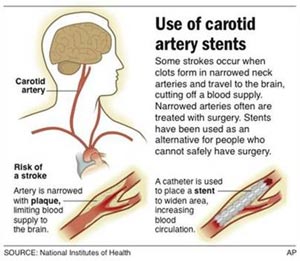 I liken this CIPP technology to the medical technology of stents now being used to prevent heart attacks and strokes in patients by "opening up and shoring up" clogged and damaged sections of our arteries. Just like when we age and get narrowing and clogged arteries, our homes and its piping system also narrow, get clogs and parts of the pipe deteriorate. Nothing lasts forever – not us and not even cast iron pipes. The similarities of this unique technique dawned on me when I was with my mother who was having a stent inserted at Loyola Hospital and the doctor called himself a plumber.
Our CIPP can be done with only one access point and in long or short sections depending on what kind of repair is needed. The CIPP takes one to two days to complete- usually about a half-day the first day and half-day the second day.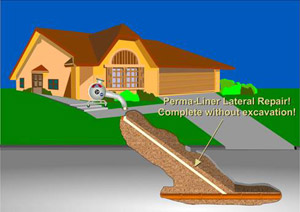 On day one, the pipe is thoroughly cleaned, videotaped and measurements are taken. On day two, the inverter, the soft liner and bladder are set up so the lining is correctly measured and cut, the liner is impregnated with a 2 part epoxy, and it's then inserted into the inverter. The soft liner or CIPP is then inverted & pushed into the sewer by several pieces of equipment which also inserts a bladder full of air to make sure the soft pipe coated with epoxy has good contact with the host pipe (old broken pipe). The pipe is cured for several hours, the bladder is removed and another video camera inspection is done to make sure that proper adhesion of the liner to the pipe was made. That's it – now your pipe is as strong or stronger than the original pipe and is one smooth continuous pipe.
This system is used when the pipe is cracked, broken, has deteriorated sections, has 90 degree turns, bad connections, missing sections, is sheared with offsets of less than 20% and other scenarios. This system cannot be used in collapsed pipe or sheared sewers where the offset is more than 20%. For this reason it is important to call us in when these scenarios initially become apparent so a repair can be made before the floor, yard and or driveway need to be excavated to make a repair. Many homeowners (and some plumbers) think they are saving money by cutting down trees and rodding their sewer yearly to remove tree root growth when the fact is the longer they wait to make the needed sewer repair the more costly it will be. Tree roots cannot enter an intact sewer line and if left to grow they can actually break apart the sewer pipe. Our European CIPP system is also known as No-Dig or Trenchless Sewer Repair and it comes with a 50 year guarantee. Wouldn't it be nice if stents came with the same guarantee.
Call Today
(312) 423-1518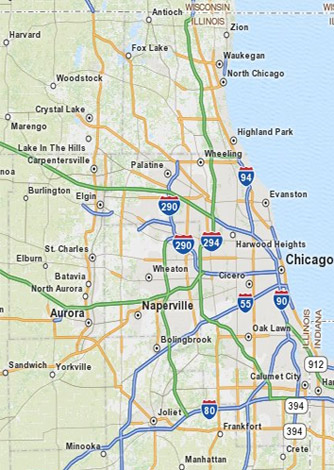 Chicago Illinois
Chicago IL, Naperville IL, Aurora IL, Cicero IL, Oak Lawn IL, Calumet City IL, Joliet IL, Bolingbrook IL, Wheaton IL, St Charles IL, Elgin IL, Palatine IL, Evanston IL, Highland Park, Wheeling IL, Carpentersville IL, Crystal Lake IL, North Chicago IL, Waukegan IL, Zion IL, Fox Lake IL, Antioch IL, Harvard IL, Marengo IL, Burlington IL, Elburn IL, North Aurora IL, Batavia IL, Sandwich IL, Yorkville IL, Frankfort IL, Minoka IL, Manhattan IL.
Scottish Plumber
1235-A North Clybourn, Ste 213
Chicago, IL 60610
(312) 423-1518